Cargo Lashing & Packaging Service
Cargo Lashing and Securing Services
Cargo Lashing is the process of securing the cargo to minimize the shift while being transported on a vessel. Lashing becomes extremely essential especially when the cargo is loaded onto the deck of the vessel where the external forces are constantly encountered due to the motion of the ship into various directions. The cargo is secured by ropes, chains, cables, straps, nets and strapping, which are anchored to the container and tensioned against the cargo.
At ABDUi Logistics Services WLL , we provide a wide array of Cargo Lashing and Securing Services for conventional mixed goods and breakbulk. We have handled heavy machinery, steel products, vehicles, transformers, crates, boxes, heavy industrial cargo, and other equipment. The safety and security of your cargo is our top priority and we ensure this by using all the necessary material for lashing.
At ABDUi Logistics Services WLL we have a professionally trained team that specializes in securing cargo. Our team of specialist carefully evaluate the cargo and plan to secure your cargo to minimize any risks which could be encountered in their onward transportation. Our work is held in complete compliance with international standards and regulations.
Abdui specializes in packing and crating pre-shipment of commercial, industrial and personal goods to any part of the world. Our wooden packaging can secure your cargo for any mode of transportation be it air, sea or land. Our packing & crating specialists can provide the following services:
Wooden box packaging

Palletization of your goods

Repackaging into wooden boxes

Cargo stowing on open-top containers and flat racks 

Vacuum packing

Strapping & securing goods on pallets

Rustproof packaging
ABDUi Logistics Services WLL has been a pioneer in the space of freight forwarding and handled all kinds of cargo over the years. Our team of well-trained professionals can provide a complete packing solution to meet the needs of commercial and industrial projects across the Middle East. Aboudi can handle packaging of commercial goods like heavy machinery and industrial equipment, any kind of oil & gas industry-related goods and products, and sensitive cargo like laboratory equipment and calibration devices, etc. Our specialty crates are capable of handling even the most complex requirement accommodating your project cargo of any shape or size. Aboudi can assure that your project cargo is being handled in the most efficient professional manner.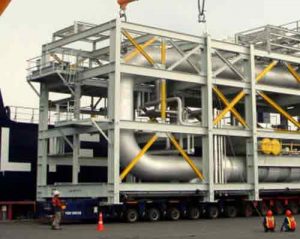 Abdui Logistics's customized palletizing service offers the best solution for packaging and transporting fragile cargo across the world. Abdui provides customized palletizing services to safely and easily move goods to long distances. The packaging material we use is of superior quality and minimizes the risk of breakage. Our team of specialists will design a customized shipping solution to meet your palletizing requirements.
VCI PACKING (ANTI CORROSIVE PACKING)
At Abdui Logistics, we leverage our vast industrial proficiency and an in-depth understanding of the client's requirements to offer the best VCI packaging services. VCI is an additive that can be used in packaging materials commonly. When it exposes to air, the additive dissolves in air and disposes of as a thin layer on the metal surfaces. This layer prevents humidity on the metal and corrosion is prevented. To prevent corrosion during cargo shipment, we use anti-corrosion plastics, heat-sealable aluminum, VCI, plastic, etc. Abdui is engaged in delivering unmatched quality to our industrial and commercial customers.
ABDUi Logistics Services WLL provides heat-shrink wrapping services on-site for all types of cargo to prevent dirt, moisture and any outside damage due to the harsh weather conditions during transportation. The heat-shrink wrapping offers a great solution when the product is oversized or oddly shaped. The heat shrink method provides a very tight wrap, conforming to the product shape so that your consignment is sealed properly for onward transportation. The heat-shrink wrapping will also ensure the cargo does not move or chafe during transportation or storage.
ALUMINUM BARRIER PACKING / VACUUM PACKING
ABDUi Logistics Services WLL offers Aluminum barrier packaging, which acts as a barrier to the entry of moisture inside the packaging. This process ensures that the atmospheric moisture does not get deposited on the surface of your cargo. This packaging material protects your cargo from slats, odor, condensation, other contaminants, ultra-violet rays, oxygen, oils, and moisture. Aluminum barrier packaging is usually recommended to protect cargo that is transported by sea, or kept for extended storage and requires protection from degradation.
Are You Ready to be Contacted by Our Expert Cargo Lashing and Packaging Consultants?